Dishes
Drinks
Seasonal Dishes
Ingredients from Local Producers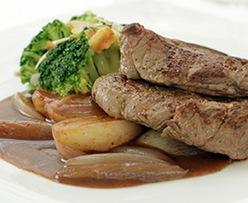 Roast made of pork, veal, ox, lamb or wild boar play an important role in our homely and international kitchen. The roast pork comes straight from the oven every day and is a speciality of ours which is well known in the region. If you like meals from the pan you get everything you dream of. We are also pleased to serve vegetarian dishes. We also serve snacks if that is more to your liking
Together with a delicious meal you can take speciality beer from Spaten-Franziskanerbräu of Munich. In our inn the landlord personally takes care of your thirst and he is ready to take on any challenge. Whether with or without alcohol, we offer a wide range of sophisticated beverages and are happy to fulfil our guests' wishes.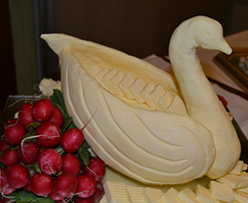 Our kitchen adapts to the season. So in springtime fresh asparagus from Schrobenhausen has to be on the menu, as well as game from local forests in autumn and ducks and goose during Christmas time.
Rest assured that everything on your plate (not only the meat) is homemade and comes from local producers. Our farmers produce only high quality goods, which we buy and prepare. This is a continuance an ancient formula which we aim to maintain.